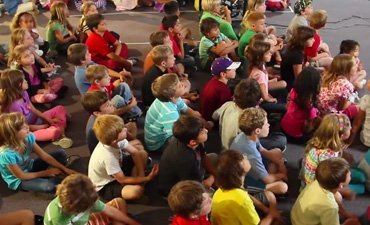 Assembly
Introducing the Masters—Multi-Purpose Room
The Meet the Masters experience begins with a multi-media assembly using engaging Powerpoint slides, artist voices and music where the children learn about the fascinating lives and famous works of the Master Artists. Interactive questions and multi-media content will captivate the students while walking through a virtual museum filled with interesting stories and facts. An art background is not necessary because all lesson plans are scripted, illustrated and timed. The art vocabulary, artist name cards, art elements, props and visuals are all included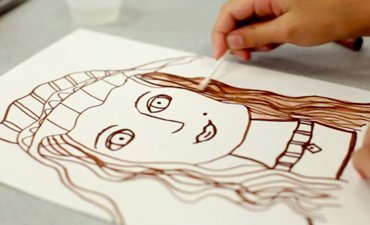 Student Art Projects

Working with the Masters—In The Classroom

After learning the inspiration and techniques of each Master the children are ready for the real fun. Your classroom will transform into an art studio as the well-equipped teacher leads the students on a step-by-step journey through the art project. Often in the same medium, style or subject matter as the Master, the students will discover their creativity while developing confidence in their own unique abilities. Training DVDs can assist the teacher with step by step detailed instructions.

***********************************************************

Meet the Masters has over 30 years of history of providing interactive, multi-media art education to elementary school students worldwide. As California's leading art program, MTM has introduced Monet, Picasso, Van Gogh and a total of 35 Master Artists to more than 3 million Kindergarten thru 8th graders.
In 1985, Bonnie Steele began Meet the Masters as a volunteer project for her daughter's sixth grade class at Del Lago School in Mission Viejo, CA. Art education was suffering cut-backs, and Steele's intense interest in art, along with her background as a credentialed teacher and exhibited artist, sparked the idea for Meet the Masters. While teaching her program Steele discovered that sixth grade was sometimes too late to reach children. By the age of 12 some students had already decided they either had creative talent or didn't. She began to see the need to begin the program at an earlier age.
The program's popularity spread quickly, and today Meet the Masters employs over 45 teachers. The program continues to grow with the help of thousands of volunteers, who also feel art is important for their children, thus donating their time to teach and learn right along with the students. Though its roots are in California, MTM has spread to every region of the U.S. and internationally.
"Mankind's most enduring achievement is art. At its best, it reveals the nobility that coexists in human nature along with flaws and evils, and the beauty and truth it can perceive. Whether in music or architecture, literature, painting or sculpture, art opens our eyes and ears and feelings to something beyond ourselves, something we cannot experience without the artist's vision and the genius of his craft." — Barbara Tuchman, Pulitzer Prize winning historian.